En partenariat avec Wagram Music, Funk★U vous offre le vinyle Give Me the Funk ! (Volume 6).
Après le succès des trois premiers volumes parus l'an dernier de la collection Give Me the Funk ! The Best Funky-Flavored Music, voici les volumes 4, 5 et 6 disponibles depuis le 27 août (Informations).
Pour remporter votre album vinyle, il suffit de répondre à la question suivante en nous écrivant à concoursfunku@gmail.com avant le mercredi 20 octobre 20 heures. N'oubliez pas d'ajouter vos coordonnées complètes (nom, prénom, adresse postale) !
 Quel est le nom du photographe des pochettes de la collection Give Me The Funk!  ?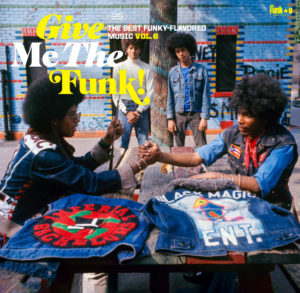 Tracklisting
Face A
Sir Joe Quarterman "(I Got) So Much Trouble in My Mind" (06'19)
Eugene Blacknell "Dance to the Rhythm" (03'29)
Mavis John "Use My Body" (04'25)
Betty Wright "All Your Kissin' Sho' Don't Make True Lovin'" (02'37)
Gil Scott-Heron "Lady Day and John Coltrane" (03'34)
Face B
Oby Onyioha "Enjoy Your Life" (06'18)
Incredible Bongo Band "Apache" (04'49)
Patrice Rushen "Music of the Earth" (03'55)
Lonnie Liston Smith and the Cosmic Echoes "Expansions" (03'06)
Millie Jackson "I'm Free" (03'01)