En partenariat avec Wagram Music, Funk★U vous propose de gagner le coffret Soul Voices, une anthologie collector 5 vinyles réunissant les plus grandes voix passées et actuelles de l'histoire de la soul music.
De Nina Simone et James Brown à Al Jarreau et Sharon Jones en passant par Stevie Wonder, Gil Scott-Heron, Curtis Mayfield, Aretha Franklin, Marvin Gaye, Dionne Warwick, Ray Charles et bien d'autres, l'anthologie Soul Voices – The Ultimate Soul Experience propose 65 titres répartis sur dix faces vinyles (tracklisting complet ci-dessous).
Pour remporter le coffret 5-vinyles, il suffit de nous écrire à concoursfunku@gmail.com avant le jeudi 16 novembre. N'oubliez pas d'ajouter vos coordonnées complètes (nom, prénom, adresse postale) !
Concours terminé ! Bravo à tous les gagnants qui ont été prévenus et recevront prochainement leurs coffrets.
Le coffret Soul Voices – The Ultimate Soul Experience est disponible depuis le 3 novembre (distribution : Wagram).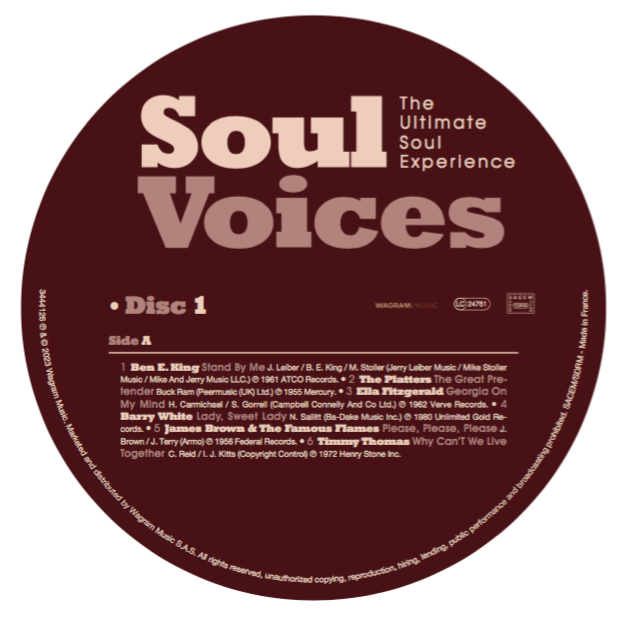 Side A
1  Ben E. King Stand By Me 2'51

2  The Platters The Great Pretender 2'36

3  Ella Fitzgerald Georgia On My Mind 3'28

4  Barry White Lady, Sweet Lady 5'38

5  James Brown & The Famous Flames Please, Please, Please 2'43

6  Timmy Thomas Why Can't We Live Together 4'34

Side B
1 Sam Cooke (What A) Wonderful World 2'05
2  George McCrae Rock Your Baby 3'11
3  Jimmy « Bo » Horne Clean Up Man 2'30
4  Carla Thomas B-A-B-Y 2'53
5  Dionne Warwick Don't Make Me Over 3'19
6  Mavis John Use My Body 4'25
7 Screamin' Jay Hawkins I Put A Spell On You 2'25
Side C
1  The Isley Brothers Right Now 3'15

2  Etta James At Last 2'58

3  The Clovers Love Potion No. 9 1'50

4  Little Willie John Fever 2'41

5  The Mar-Keys Last Night 2'34

6  Brenda Lee I'M Sorry 2'39

7 Aretha Franklin God Bless The Child 2'59
Side D

1 Gwen McCrae 90% Of Me Is You 2'47
2 Curtis Mayfield & The Impressions Gypsy Woman 2'17
3 Booker T. & The MG's Green Onions 2'52
4 Bobby Byrd Back From The Dead 3'04
5 Lonnie Liston Smith & The Cosmic Echoes Expansions 6'05
6 Stevie Wonder Contract On Love 2'10
7 Nina Simone Work Song 2'32
Side E
1  Gil Scott-Heron Lady Day And John Coltrane 3'34

2  Ray Charles Unchain My Heart 2'47

3  Jackie Wilson Reet Petite 2'39

4  Jerry Butler He Will Break Your Heart 2'44

5  Mary Wells The One Who Really Loves You 2'27

6  Smokey Robinson & The Miracles You Really Got A Hold On Me 2'49

Side F
1  Diana Ross & The Supremes Your Heart Belongs To Me 2'34

2  Ike & Tina Turner I'M Jealous 2'09

3  Doris Duke Woman Of The Ghetto 7'32

4  Solomon Burke Cry To Me 2'30

5  The Marvelettes Please Mr. Postman 2'27

6  Gladys Knight & The Pips Every Beat Of My Heart 2'01

7  Dinah Washington Mad About The Boy 2'44

Side G
1  Quincy Jones Soul Bossa Nova 2'44

2  Betty Wright Clean Up Woman 2'42

3  Esther Phillips Release Me 3'16

4  The Everly Brothers All I Have To Do Is Dream 2'17

5  Latimore Let's Straighten It Out 5'07

6  Aretha Franklin Try A Little Tenderness 3'13

7  Marvin Gaye & The Vandellas Stubborn Kind Of Fellow 2'54

Side H

1 Otis Redding These Arms Of Mine 2'30
2  Aaron Neville Hercules 4'09
3  Rufus Thomas The Dog 2'33
4 Sir Joe Quaterman & Free Souls (I Got) So Much Trouble In My Mind 6'15
5 Lavern Baker Love Me Right 1'53
6 Gene Chandler Duke Of Earl 2'23
7 Al Jarreau Ain't No Sunshine 2'01
Side I
1  Ibeyi River 4'09

2  Aloe Blacc & King Most With My Friends 3'37

3  Kimberose I'M Sorry 3'42

4  Terry Callier Running Around (Fug City Mix) 3'18

5  Jamie Lidell Building A Beginning 3'45

6  Asa The Beginning 3'43
Side J
1  Selah Sue This World 4'43

2  Cunnie Willams Feat. Monie Love S a t u r d a y 4'39

3  Cookin' On 3 Burners Feat. Kylie Auldist T h i s G i r l 3'42

4  Alice Russell & Nostalgia 77 Seven Nation Army 4'20

5  Greyboy & Quantic Feat. Sharon Jones Got To Be a Love 4'34