En partenariat avec Wagram Music, Funk★U présente Sampled Funk, le nouveau volume de la collection Give Me the Funk ! The Best Funky-Flavored Music.
Depuis les premières bloc parties des années 1970 jusqu'à la révolution digitale, les rythmes organiques des artisans du funk, du disco et de la soul music ont fourni l'ADN d'innombrables classiques du rap. Le nouveau volume de la collection Give Me The Funk explore les trésors du groove samplés par les plus grands DJs, producteurs et autres « pilleurs créatifs » du hip-hop et du R&B.
Cramp your style, here come the hotsteppers ! De Johnny Guitar Watson à Instant Funk en passant par The Whispers et Clarence Reid, Sampled Funk remonte à la source des titres incontournables d'Eric B & Rakim, Kanye West, Beastie Boys, De La Soul, Cypress Hill, Dr. Dre, Snoop Dogg et bien d'autres.
Give Me The Funk! Sampled Funk disponible en vinyle simple et version digitale (Wagram Music).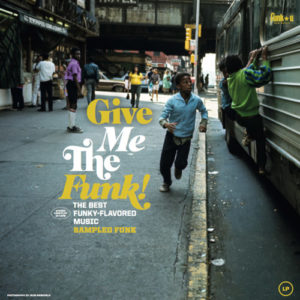 SIDE A
1  B.T. EXPRESS « Express » (samplé par Gang Starr dans "Gusto")
2  SILVER CONVENTION « Fly, Robin, Fly » (samplé par Method Man & Redman dans "How High (Remix)")
3  INSTANT FUNK « I Goy My Mind Made Up (You Can Get It Girl) » (samplé par De La Soul Feat. Q-TIP & Vinia Mojica dans "A Roller Skating Jam Named Saturdays")
4  THE SOUL SEARCHERS « Ashley's Roachclip » (samplé par Eric B & Rakim dans "Paid In Full")
5  ALL THE PEOPLE FEAT. ROBERT MOORE « Cramp Your Style » (samplé par Cypress Hill dans "Real Estate")
SIDE B
1 TAANA GARDNER « Heartbeat » (samplé par Ini Kamoze dans "Here Comes The Hotstepper")
2 CLARENCE REID « Living Together Is Keeping Us Apart » (samplé par Dr Dre & Snoop Dogg dans "Deeez Nuuuts")
3 THE SOUTH SIDE MOVEMENT « I've Been Watching You » (samplé par les Beastie Boys dans "So Watcha Want")
4 DETROIT EMERALDS « Baby Let Me Take You (In My Arms) (samplé par De La Soul dans "Say No Go")
5 JOHNNY GUITAR WATSON « Superman Lover » (samplé par Mary J. Blige Feat. Notorious BIG dans "What's The 411? (Remix)")