Earth Wind & Fire en concert à Paris
Deux ans après leur dernier passage dans la capitale, Earth Wind & Fire sera de retour à Paris cet été.
Désormais aux commandes de la formation légendaire, Philip Bailey, Verdine White et Ralph Johnson se produiront sur la scène du Palais des congrès le samedi 7 juillet.
Billets déjà en vente sur tous les réseaux (informations).
Live Report : Chic/Earth Wind & Fire, Philadelphia (01/08/2017)
When the musical elements of the universe, Earth, Wind & Fire join together with an eloquent sound that is Chic, a mesmerizing musical experience forms.  Earth, Wind & Fire along with Chic feat. Nile Rodgers are currently traveling throughout the United States to bring audiences a night of soul, disco, and funk that will leave fans with sore feet the following day. The 2054 Tour surely conveys a type of concert that would be seen 37 years from now due to its futuristic stage effects that compliment the timeless music created from the two iconic bands.
Chic's presence on stage exactly reflects the meaning of the band's name.  The band, led by Nile Rodgers has the appearance of a pristine jazz club band but with an energetic twist. Nile Rodgers narrates the band's entire performance discussing the development and significances of each song that he helped create.  Chic not only delivers their classic hits but also dives into songs that were created through Rodgers' collaborations with such artists as Daft Punk, David Bowie, Sister Sledge, and Diana Ross. Chic is truly a spectacle to see with Nile Rodgers' funky chops on his legendary "Hitmaker" Stratocaster, bass player Jerry Barnes' superb skill of generating alluring beats, and the heavenly voices of singers Folami Ankoanda and Kimberly Davis. Chic not only creates a "Good Time" for concert goers but captivates the audience with their individual and unique skills as musicians, having audience members constantly directing their attention to different members of the group throughout the show.
The second Earth, Wind & Fire takes the stage, audience members are surrounded by sounds and visual effects that would make it appear as if they were transported to another planet. Earth, Wind & Fire consists of eleven talented musicians with three remaining members from the original group : Verdine White, Ralph Johnson and Philip Bailey. The band performance is nothing less than extraordinary. Philip Bailey not only astonishes the audience with his magnificent voice and vocal range but adds the group's distinct sound throughout the concert by playing the kalimba. Bass player Verdine White causes an irresistible sensation for fans to dance as he constantly boogies around the stage thumping his bass. Throughout the performance, each musician in the band takes turns stunning the audience with solo instrumental and vocal performances. It's truly a family affair as Philip Bailey's son, Philip Bailey Jr., assists in background vocals as a member of the group while the band pays tribute to the founder of the group and brother of Verdine White, Maurice White.  Earth, Wind & Fire truly makes a statement with their performance by showing how an old school band that has been around for over forty years only gets better with age like a fine red wine.
Over the years, each band has created a memorable soundtrack for people's lives. The 2054 Tour is sure to generate pleasant reflections for long-time fans that grew up during each band's prime, while also creating a night to remember for everyone in attendance, no matter their age. We can only hope that when we reach the year 2054, performances and musicians like this will still exist.
Adam Kita
Chic Set List
Everybody Dance
Dance, Dance, Dance
I Want Your Love
I'm Coming Out
Upside Down
He's The Greatest Dancer
We Are Family
Get Lucky
Let's Dance
Le Freak
Good Times
Earth, Wind & Fire Set List
Shining Star
Get Away / Let Your Feelings Show
Sing a Song
On Your Face
Serpentine Fire
Kalimba Story
Evil
Can't Hide Love
Head to the Sky / Devotion
That's the Way of the World
After the Love Has Gone
Reasons
Power / Africano
September
Boogie Wonderland
Let's Groove
Fantasy / In the Stone
Live Report : Earth Wind & Fire, Paris (L'Olympia) 24/06/2016
Les tubes ("September", "Boogie Wonderland", "Let's Groove"), la séquence percussions ("Africano/Power") et les ballades ("Reasons", "After the Love Has Gone") d'Earth Wind & Fire ont ponctué les 90 minutes d'un concert ultra-calibré en présence d'un Verdine White toujours autant cartoonesque, d'un Ralph Johnson un peu las et d'un Philip Bailey en forme vocale fluctuante (et qui ressemble de plus en plus à Maceo Parker).
Questions du soir : Entend-on des bandes en renfort derrière les douze (!) musiciens présents ? Le chanteur a-t-il vraiment fait reprendre "Thieves in the Temple" de Prince au public d'un Olympia sold-out pendant "Kalimba Story" ? Pourquoi aucun hommage n'a-t-il été rendu à Maurice White ? Et Al McKay, c'est comment sur scène ?
Setlist
Intro – Power, Africano, Faces
Boogie Wonderland
Jupiter
Yearnin' Learnin'
Shining Star
On Your Face
Sing a Song
Serpentine Fire
Kalimba Story
Evil
Devotion
Can't Hide Love
That's The Way of the World
After the Love Has Gone
Reasons
Got To Get You Into My Life
Fantasy
September/Let's Groove/In The Stone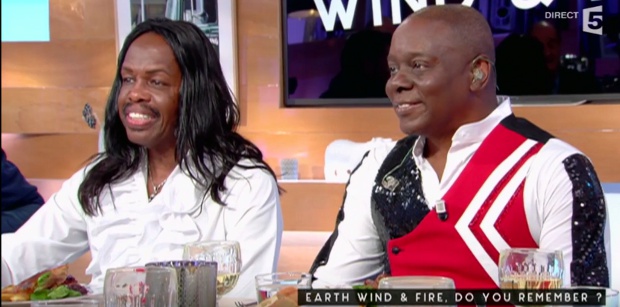 Vidéo : Earth, Wind & Fire "Medley" en live dans C à Vous
24h avant de fouler la scène de l'Olympia à Paris, Earth, Wind & Fire a fait danser Anne-Sophie Lapix et ses invités sur le plateau de C à Vous avec un méga medley composé des classiques "Let's Groove", "September" et "Boogie Wonderland". Une performance précédée d'une petite interview de Philip Bailey et Verdine White dans laquelle on apprend que le célèbre bassiste doit son prénom à la ville de Verdun !
Vidéo : Earth Wind & Fire "Let's Groove/Boogie Wonderland" (TheEllenShow 11/03/2015)
Invités hier soir sur le plateau d'Ellen, le talk-show d'Ellen de Generes, Earth Wind Fire a interprété un medley "Let's Groove/Boogie Wonderland". Une performance featuring Philip Bailey, Verdine White et Ralph Johnson à visionner ci-dessus (avec les sous-titres en bonus pour les choristes) !
Découvrez le nouvel album d'Earth, Wind & Fire "Now Then & Forever"
Avec un peu d'avance sur le calendrier, le légendaire groupe de funk Earth, Wind & Fire emmené par Philip Bailey, Verdine White et Ralph Johnson vous propose de découvrir en avant-première leur nouvel opus Now, Then & Forever qui sortira le 9 septembre aux États-Unis et le 23 septembre en France.
"Le concept de Now Then & Forever, c'est vraiment l'héritage d'Earth Wind And Fire" explique le chanteur Philip Bailey. "L'ambition du groupe a toujours été d'élever la conscience de l'humanité. Notre espoir est que la musique d'Earth, Wind & Fire survive à jamais". "L'album nous a donné la possibilité de tous nous rassembler à nouveau musicalement et culturellement" ajoute le bassiste Verdine White. Ce nouvel album sera également proposé en édition deluxe avec un deuxième cd "best of" composé de classiques du groupe sélectionnés par Pharrell Williams, Justin Timberlake, André 3000, Will I Am et bien d 'autres. Découvrez Now, Then & Forever dans le lecteur ci-dessous.
Tracklisting:
1. Sign On
2. Love is Law
3. My Promise
4. Guiding Lights
5. Got to Be Love
6. Belo Horizonte
7. Dance Floor
8. Splashes
9. Night of My Life
10. The Rush
"Now, Then & Forever", le nouveau Earth Wind & Fire disponible le 9 septembre
Now, Then & Forever, le nouvel album d'Earth Wind & Fire, paraîtra le 9 septembre chez Sony Legacy. Les dix nouveaux titres composés et interprétés par Philip Bailey, Verdine White, Ralph Johnson, Larry Dunn et leur armada de cuivres comprennent "My Promise", une reprise d'un titre de Siedah Garrett III que nous vous avions dévoilés la semaine dernière. Lors d'une interview avec l'agence Associated Press, le groupe a révélé que l'album aurait dû paraître l'an dernier lors des élections américaines, mais que les premières chansons n'étaient pas réussies. "J'ai dit "retournons au travail"", explique Philip Bailey. "L'album représente bien où en est Earth Wind & Fire aujourd'hui, tout en restant proche de notre son classique". "Sur cet album, nous n'avons pas essayé d'être autre chose qu'Earth Wind & Fire", ajoute Verdine White.
En attendant de découvrir le premier album de matériel inédit d'Earth Wind & Fire depuis huit ans, les légendes du funk se produiront le 8 juillet au Nice Jazz Festival et le 11 au Zénith de Paris (billets en vente sur tous les réseaux habituels). Philip Bailey (et son fils), Ralph Johnson, et Verdine White seront présents sur scène, contrairement à Maurice White, victime de problèmes de santé depuis plusieurs années. Let's groove !
Track List:
Sign On
Love Is Law
My Promise
Guiding Lights
Got To Be Lover
Belo Horizonte
Dance Floor
Splashes
Night Of My Life
The Rush
Earth Wind & Fire, Now Then & Forever (Sony Legacy) www.nowthenandforever.com