The Jimmy Castor Bunch : The Definitive Collection
En dépit de l'humour et l'irrévérence de son funk – comme en témoignent 'Troglodyte (Cave Man)' et 'Bertha Butt Boogie' - Jimmy Castor était un musicien sérieux qui a plus que mérité son surnom, "The Everything Man". Il pouvait aussi bien chanter que jouer du saxophone, du piano, du vibraphone et de divers instruments de percussion, et comme si cela ne suffisait pas, il était également un chef d'orchestre, un arrangeur et un producteur accompli.
"Ce que nous allons faire ici, c'est remonter – très loin, dans le temps" : The Definitive Collection comprend 3-CDs et le hit "Troglodyte (Cave Man)", l'histoire délirante d'un homme des cavernes racontée par Castor sur un groove brûlant, mais aussi les classiques "Potential", "King Kong", "Supersound", "Bom Bom" et "Space Age' 12″ Disco Mix", sans oublier ses reprises étonnantes d'Elton John, de Roberta Flack des O'Jays et son "Tribute" à Jimi Hendrix.
 The Jimmy Castor Bunch The Definitive Collection (Robinsongs/Cherry Red). Coffret 3-CDs disponible le 11 novembre (informations).
Tracklisting
CD1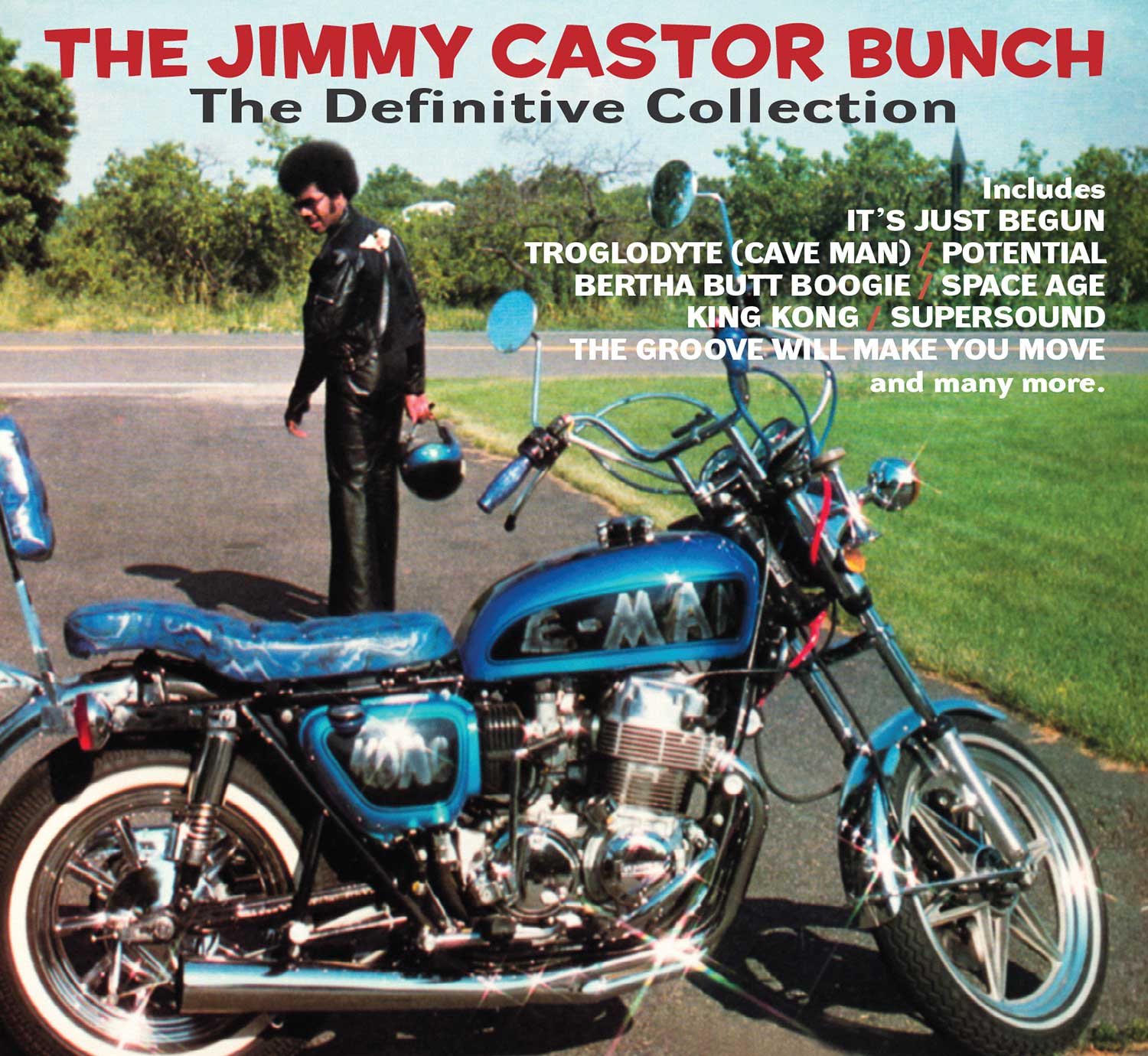 1. Hey Leroy, Your Mama's Callin' You
2. Southern Fried Frijoles
3. Creation (Prologue)
4. It's Just Begun
5. Troglodyte (Cave Man)
6. You Better Be Good (Or the Devil Gon' Getcha)
7. Psyche
8. L.T.D. (Life, Truth, & Death)
9. Creation (Epilogue)
10. Say Leroy (The Creature From The Black Lagoon Is Your Father)
11. Luther The Anthropoid (Ape Man)
12. First Time Ever I Saw Your Face
13. Tribute To Jimi
14. Paradise
15. I'm Not a Child Anymore
16. Soul Serenade (Remastered 2002)
17. Bertha Butt Boogie
18. E-Man Boogie
19. Let's Party Now
20. Daniel
CD2
1. Potential
2. Hallucinations
3. One Precious Word
4. Love Train
5. The Everything Man
6. Maggie
7. Supersound
8. King Kong
9. Bom Bom
10. A Groove Will Make You Move
11. Super Love
12. E-Man Groovin'
13. Dracula, Pt. I
14. I Love A Mellow Groove
15. Everything Is Beautiful To Me
CD3
1. Space Age (12″ Disco Version)
2. E-Man Par-Tay
3. Maximum Stimulation
4. The Return Of Leroy, Pt. 1
5. Mind Power
6. Tr-7
7. Don't Do That!
8. Party People
9. I Just Wanna Stop
10. Need Your Lovin'
Funk★U présente la collection "Give Me the Funk !" (vol 4, 5 & 6)
En partenariat avec Wagram Music, Funk★U présente les trois nouveaux volumes de la collection Give Me the Funk ! The Best Funky-Flavored Music.
Après le succès des trois premiers volumes parus l'an dernier, voici les volumes 4, 5 et 6 : Au programme de ces trois vinyles simples disponibles le 27 août : James Brown, Funkadelic, Gil Scott-Heron, Cymande, B.T. Express, Ohio Players, Patrice Rushen, The Jimmy Castor Bunch, Sir Joe Quarterman, Lonnie liston Smith, mais aussi des titres rares de Millie Jackson, The Blowflys, The Sylvers, Tommie Stewart, T Connection, Betty Wright et bien d'autres (tracklistings disponibles ci-dessous).
Give me the funk, nothing but the funk ! Informations.
Give Me The Funk 4
New York – Memphis – Miami – La Nouvelle-Orléans : le quatrième volume de la collection Give Me The Funk vous propose un voyage immobile du nord au sud de la côte Atlantique. En 1974, la formation New-yorkaise Brooklyn Transit Express, alias B.T. Express, met sur les rails son implacable «Do It ('Til You're Satisfied) ». Deux ans plus tard, le producteur Tommy Stewart grave aux mythiques Ardent Studios de Memphis « Bump and Hustle Music », le sommet disco-funk de son unique album. Cap sur la Floride avec le label TK Records basé à Miami et abritant les productions du fantasque Clarence Reid, qui co-signe pour les époux George et Gwen McRae l'hypnotique « The Rub ». Enfin, les sillons de la face-B de ce vinyle vous invitent à la rencontre de trois légendes du groove made in New Orleans : Robert Parker, Lee Dorsey et Aaron Neville, interprètes de pièces de choix du mirifique songbook d'Allen Toussaint. Prêts pour l'embarquement ?
Face A
B.T. Express "Do It ('Til You're Satisfied)" (05'53)
Uncle Louie feat. Walter Murphy "I Like Funky Music" (04'00)
Brenda George "What You See Is What You Gonna Get" (02'29)
All The People feat. Robert Moore "Cramp Your Style" (02'12)
Face B
The Soul Searchers "Think" (04'44)
Clarence Reid "It's Good Enough for Daddy" (02'55)
George & Gwen McRae "The Rub" (03'31)
Lee Dorsey "Give it Up" (03'00)
Robert Parker "Get Ta' Steppin'" (02'45)
Aaron Neville "Hercules" (04'10)
Give Me The Funk 5
Que serait le funk sans ses grands personnages excentriques ? Le cinquième épisode de la série Give Me The Funk rassemble quelques-uns de ses plus remarquables spécimens, à commencer par Clarence Reid : "Je faisais déjà du rap en 1959 sur des 78 tours !", scandait l'alter-ego de Blowfly, leader des iconoclastes The Blowflys. Apparaît ensuite George Clinton et les délires orchestraux d'« If You Don't Like the effects, Don't Produce the Cause », extrait de l'inclassable America Eats its Young de Funkadelic (1972). Dans ce même volume, les Ohio Players et The Jimmy Castor Bunch s'extirpent de leurs pochettes extravagantes pour délivrer leurs grooves insensés, tandis que James Brown dénonce les méfaits de l'alcool et du tabac dans le rare « Smokin' and Drinkin' ». Si vous n'aimez pas les effets, ne produisez pas la cause !
Face A
The Blowflys "Funky in the Hole" (02'36)
Funkadelic "If You Don't Like the Effects, Don't Produce the Cause" (03'35)
Ohio Players "Hustler Bird" (02'55)
The Armada Orchestra "For the Love of Money" (06'17)
The Sylvers "Handle It" (02'44)
Malone & Barnes and the Spontaneous Simplicity "Road Man" (03'23)
Face B
James Brown "Smokin' and Drinkin'" (04'30)
KC and the Sunshine Band "I Get Lifted" (03'03)
T-Connection "Lady of the Night" (03'24)
 Asha Puthli "Flying Fish" (05'03)
 The Jimmy Castor Bunch "The Mystery of Me" (03'56)
Give Me The Funk 6
 "Je venais de perdre mon job. J'étais marié avec un enfant et plein de factures à payer. Je pensais que j'allais tout perdre. Je tournais en rond chez moi avec une seule phrase dans ma tête : I've Got So Much Trouble in My Mind. C'était en 1972, en plein Watergate, et partout où on jouait ce titre, les gens s'y retrouvaient. » Les souvenirs de Sir Joe Quarterman introduisent avec noirceur — et un incroyable groove James Brownien — le sixième LP de la série Give Me The Funk. L'ombre laisse ensuite place à la lumière avec Gil Scott-Heron et "Lady Day and John Coltrane", son éblouissante évocation du pouvoir de la musique, puis aux élévations jazz-funk de Patrice Rushen et Lonnie Liston Smith, avant d'offrir à Millie Jackson le chemin de l'émancipation. Free at last…
Face A
Sir Joe Quarterman "(I Got) So Much Trouble in My Mind" (06'19)
Eugene Blacknell "Dance to the Rhythm" (03'29)
Mavis John "Use My Body" (04'25)
Betty Wright "All Your Kissin' Sho' Don't Make True Lovin'" (02'37)
Gil Scott-Heron "Lady Day and John Coltrane" (03'34)
Face B
Oby Onyioha "Enjoy Your Life" (06'18)
Incredible Bongo Band "Apache" (04'49)
Patrice Rushen "Music of the Earth" (03'55)
Lonnie Liston Smith and the Cosmic Echoes "Expansions" (03'06)
Millie Jackson "I'm Free" (03'01)
Brûle : The Bronx Mixtape 1973-1979
Parallèlement à la sortie de Brûle, le roman de Laurent Rigoulet situé dans le New York des années 1970 avec pour toile de fond la naissance du hop-hop, le label PIAS publiera le 18 novembre en version digitale et 2 décembre en CD la bande-son de la "fiction documentaire" parue cet automne en alignant 16 classiques old-school. Brûle : The Bronx Mixtape 1973-1979 propose des titres incontournables signés Afrika Bambaataa, Grandmaster Flash & The Furious Five, The Sugarhill Gang, mais aussi The Jimmy Castor Bunch, James Brown, Rufus Thomas, Baby Huey et Sly And The Family Stone. Bienvenue dans la Planet Rock !
Communiqué de presse :
12 000 immeubles incendiés par an. Le Bronx est en flammes, brûlé par les promoteurs véreux, brûlé par ses propres habitants. Bientôt il ne sera qu'un décor de cendres et de ruines, un immense quartier sinistré, le plus pauvre d'Amérique, à deux pas de Manhattan. C'est le début des années 70, New York est une ville électrique, une ville sale et dangereuse. Dans les cités du Bronx, quelques jeunes guidés par le DJ Kool Herc, pionnier des pionniers, font trembler les murs et dansent comme des damnés sur une poignée de disques funk sauvés des eaux. Entre la fête originelle du 11 août 1973 et la parution de Rapper's Delight, ils inventent en secret une culture qui va déferler sur le monde, Brûle est la bande-son de cette génération perdue, la matrice du hip-hop.
Tracklisting
1 Here Comes – The Judge Shorty Long
2 It's Just Begun – The Jimmy Castor Bunch
3 Apache – Incredible Bongo Band
4 The Mexican – Babe Ruth
5 Listen To Me – Baby Huey
6 Stand! – Sly And The Family Stone
7 Say It Loud (I'm Black And I'm Proud) – James Brown
8 The Breakdown Part 2 – Rufus Thomas
9 Take Me To The Mardi Gras – Bob James
10 Get Into Something – The Isley Brothers
11 Fire – Ohio Players
12 The Message – Grandmaster Flash & The Furious Five
13 Planet Rock  – Afrika Bambaataa
14 Rapper's Delight – The Sugarhill Gang
15 MC Delight – Grandmaster Caz
16 South Bronx -Boogie Down Productions