Kent Records réédite 40 raretés soul pour ses 40 ans
Afin de célébrer les 40 ans du label de rééditions soul Kent Records, Ace Records lance dès aujourd'hui une campagne digitale en proposant 40 singles soul inédits sous ce format.
Au programme, des pépites signées Ike Turner & His Rhythm Kings, James Carr, Z.Z. Hill, BB King, Gene Walker et bien d'autres. Parue en 1982, la compilation For Dancers Only, la toute première sortie du label, est à nouveau disponible dans une liste complète à découvrir ci-dessous.
 2 décembre
"Selections From For Dancers Forty" – Various Artists
Walk The Chalk Line – The Teen Queens
Gonna Put It On Your Mind – Arthur Adams
You Changed Me - Teddy Reynolds
Here Comes The Judge – Larry & Tommy
Tramp – Foxfire feat. Johnny Adams
Freedom & Justice - Pace-Setters
Mr. Busdriver – The Teen Queens
Stand Up Straight And Tall – Jackie Shane
I'll Let Nothing Come Between Us – Billy Watkins
9 décembre
Camel Walking – Ike Turner & His Rhythm Kings
Daddy's Blues – Ike Turner & His Rhythm Kings
16 décembre
Knock On Wood – Z.Z. – Hill
Midnight Hour – Z.Z. – Hill
23 décembre
 Flying High – B.B. King
30 décembre
What The World Needs Now – James Carr
13 janvier
What's One More Lie - Milton Bennett
27 janvier
If I Could Turn Back The Hands Of Time – Arthur Wright Orchestra
Before It's Too Late – Arthur Wright Orchestra
3 février
"Gimme Some Mod Jazz" - Various Artists
Never Make Your Baby Cry - Johnny Talbot
Chili With Honey – Danny Bell & The Bell Hops
Empire City – Gene Walker
Spoonful – Playboy Five
Mission Impossible – Johnny Gilliam
In The Dark – Dave Hamilton
El Tacos – Frenchy & The Chessmen
10 février "Valentine's Soul"
When A Man Loves A Woman - Z.Z. Hill
You Send Me - Z.Z. Hill
Nothing Takes The Place Of You - Z.Z. Hill
24 février
Don't Pull Away – Larry Banks
We Got A Problem - Larry Banks
Let's Roll Up Our Sleeves – Larry Banks
10 mars
You Are My Sunshine – Jackie Shane
24 mars
I Can't Help Myself (Sugar Pie, Honey Bunch) - James Carr & Barbara Perry
31 mars
"More Masterpieces of Modern Soul" – Various Artists
I Ain't Givin' Up – Ray Godfrey
You've Got To Try Harder - Ronnie Walker
Trying (Pt. 2) - 7 Days Unlimited
One More Chance – The Four Tees
Ride The Disco Train - The Moderations
I Believe – The New Experience feat Elayne Starr
I Wanna Stay High On You – Higher Feelings
"Shakara" de Fela fête ses 50 ans en vinyle collector
Alors que l'exposition dédiée au pape de l'afrobeat se poursuit à la Cité de la musique de Paris, voici l'édition 50ème anniversaire de l'album Shakara.
Sixième volume de la série des rééditions anniversaire de la discographie de Fela Kuti, Shakara, sorti en 1972,  contient des paroles en Pidgin English, afin d'élargir l'audience de sa musique au-delà des locuteurs yoruba. Dans "Lady", Fela met en avant l'adoption des habitudes sociales européennes au détriment de la culture africaine. "Shakara" est un morceau principalement instrumental chanté en Yoruba avec de stupéfiants arrangements de cor, des solos incisifs de Fela au clavier et du redoutable Igo Chico au saxophone ténor.
Shakara sera réédité sur plusieurs supports, dont un LP rose gatefold amélioré avec bande obi dorée. De plus, le groupe Ezra Collective a remixé et repris les morceaux de l'album sur un 45-tours bonus jaune. Cette édition spéciale proposée par Partisan Records sera disponible le 13 janvier 2023.
Audio : The Big Ol' Nasty Getdown "Mellow" feat. Kendra Foster, Jerry Martini & Cynthia Robinson
Le collectif The Big Ol' Nasty Getdown emmené par le bassiste John Heintz est de retour avec un nouveau single P-Funk.
"Mellow" comprend les participations de la chanteuse Kendra Foster (Parliament-Funkadelic, D'Angelo) et de Jerry Martini et la regrettée Cynthia Robinson, les cuivres historiques de Sly and the Family Stone – il s'agit du dernier enregistrement de Robinson, disparue en 2015.
Disponible en version digitale, la première parution du groupe depuis 2018 est également accompagnée d'un vinyle blanc collector incluant "Mellow" et "Dream" (feat. Taylor Dayne), un extrait de l'album Volume 2. Le vinyle comprend en outre les versions instrumentales des deux titres et une version alternative de "Dream" avec un solo de guitare de Tori Ruffin (Morris Day and The Time). Limité à 600 exemplaires, ce package comprend deux tirages de l'illustrateur James Flames, un badge, un sticker et une feutrine. Informations : https://bit.ly/MellowDreamSet
Pour écouter "Mellow", cliquez ci-dessous :
Chant/textes : Kendra Foster (Parliament Funkadelic/D'Angelo)
Guitare : Josh Blake (GFE)
Basse : Ryan Martinie (Mudvayne)
Claviers : Jamar Woods
Batterie : Alvin Ford Jr. (Trombone Shorty)
Trompette : Cynthia Robinson (Sly and the Family Stone)
Saxophone : Jerry Martini (Sly and the Family Stone)
"Protest Songs & Soul-Funk Anthems", la révolution groove en double-vinyle
En partenariat avec Wagram Music, Funk★U présente le double-vinyle Protest Songs & Soul-Funk Anthems.
Apparu dès la deuxième moitié du 19ème siècle, le mouvement des droits civiques provoque une onde sismique dans l'Amérique conservatrice des années 1960. Les discours vibrants des grands défenseurs de la cause noire sont bientôt relayés par les artistes de l'époque, à commencer par les fers de lance de la scène soul/jazz/funk, dont Gil Scott-Heron, Lee Dorsey, The Whatnauts, Doris Duke, Clarence Reid et bien d'autres. La révolution groove est en marche !
Protest Songs & Soul-Funk Anthems est disponible en double-vinyle et version digitale à partir du 25 novembre. Informations : https://lnk.to/ProtestSong
Tracklisting
Face-A
1/ Gil Scott-Heron The Revolution Will Not Be Televised
2/ Creative Source Harlem
3/ Shirley Caesar Message for the People
4/ T-Connection Crazy Mixed Up World
5/ H. Rap Brown Excerpt From Speech #2 : Do Your Own Thing
6/ Ice Time Will Tell
Face-B
7/Angela Davis We're Threatening the Oppressors
8/ Pretty Purdie and The Playboys Watcha See Is Watcha Get
9/ The Whatnauts Why Can't People Be Colors Too ?
10/ Johnny Hodges, Oliver Nelson & Leon Thomas Welcome To New York
11/ Young-Holt Unlimited People Make the World Go Round
Face-C
12/ Sir Joe Quaterman (I Got) So Much Trouble In My Mind
13/ Skull Snaps It's a New Day
14/ Doris Duke Woman of the Ghetto
15/ Clarence Reid Nappy-Haired Cowboy
Face-D
16/ Don Julian & The Larks Message from a Black Man
17/ Black and Blues A Toast to the People
18/ Seven Seas Fight the Power
19/ Lee Dorsey Yes We Can, Pt 1
20/ Timmy Thomas Why Can't We Live Together
Un concert inédit de Marvin Gaye en vinyle et CD
Paru à la fin des années 1990 en DVD , ce concert enregistré le 10 octobre 1976 au Edenhalle Concert Hall d' Amsterdam refait surface en CD et vinyle chez Mercury Records.
Comme son titre l'indique, ce Greatest Hits Live in '76  est une une collection des grands tubes de Marvin Gaye assez comparable à l'album Live At The London Palladium capturé la semaine précédente. Embourbé dans ses affaires de divorce, Marvin Gaye n'est pas au mieux de forme mais délivre une prestation honorable qui ravira les nostalgiques du catalogue sixties de la Motown (tracklisting complet ci-dessous). Pour amateurs avertis.
Marvin Gaye Greatest Hits Live in '76. Disponible le 27 janvier en double-vinyle et CD Simple (Mercury/Universal).
Tracklisting :
1. All The Way Round
2. Come Get To This
3. Let's Get It On

4. Ain't That Perculiar
5. You're A Wonderful One
6. Stubborn Kind Of Fellow
7. Pride & Joy
8. Little Darling (I Need You)
9. I Heard It Through The Grapevine
10. Hitch Hike
11. You
12. Too Busy Thinking About My Baby
13. How Sweet It Is (To Be Loved By You)
14. Inner City Blues (Makes Me Wanna Holler)
15. What's Going On
16. Save The Children
17. You're All I Need To Get By
18. Ain't Nothing Like The Real Thing
19. Heaven Must Have Sent You
20. It Takes Two
21. Ain't No Mountain High Enough
22. Distant Lover
Audio : The Mighty Mocambos "Theme From Beverly Hills Cop (Axel F.)"
Enregistré en 8-pistes à la veille de la pandémie, Scénarios, le nouvel album de la formation funk allemande The Mighty Mocambos, réunit des titres originaux et quelques reprises de choix.
Parmi celles-ci, qui comprennent des relectures solidement cuivrées de J.J. Cale ("Carry On") et Barry White ("Let The Music Play" figure une réinterprétation funky d'"Axel F.", le thème principal du Flic de Beverly Hills composé en 1984 par Harold Faltermeyer.
Découvrez ci-dessous "Theme From Beverly Hills Cop (Axel F.)" extrait de Scénarios, disponible en vinyle et version digitale depuis le 28 octobre (distribution : Mocambo Records/Golden Rules).
"Whatnauts On The Rocks" réédité en vinyle
Bien connus des diggers (et des amateurs de notre collection vinyle Give Me The Funk!), The Whatnauts ont émergé de Baltimore à la fin des années 1960 avant d'enregistrer une poignée d'albums furieusement soul-funk.
Whatnauts On The Rocks, leur troisième LP paru sur Stang Records en 1972, contient l'archi-samplé "Why Can't People Be Colors Too?", aux côtés des irrépressibles "Only People can Save The World" et "I'm So Glad I've Found You", featuring Linda Jones. A l'initiative du label Playoff Records, Whatnauts On The Rocks sera réédité en vinyle simple remasterisé le 18 novembre, agrémenté d'un morceau bonus : "Help Is On the Way" , un titre de 1981 samplé par De La Soul (distribution : Modulor).
Tracklisting

Side 1
1. You Forget Too Easy
2. Heads Up
3. Hurry Up And Wait
4. I'm So Glad I Found You
5. Only People Can Save The World
Side 2
1. Blues Fly away
2. Why Can't People Be Colors Too ?
3. Ooh Baby Baby
4. Help is On The Way
Vidéo : Say She She "Prism"
Prism, le premier album de Say She She, le trio féminin de Brooklyn emmené par les voix de Piya Malik, Nya Gazelle Brown et Sabrina Cunningham est disponible depuis le 7 octobre.
Décrit comme appartenant à la catégorie "soul discodélique", ce premier essai largement autoproduit se détache des clichés surexploités de la rétro-soul grâce à une subtile écriture mélodique et une réjouissante fraîcheur pop/funk. Prism bénéficie également de la contribution des Dap Kings Joey Crispiano et Victor Axelrod, de Max Charger (The Shacks), Bardo Martinez (Chicano Batman), Nikhil Yearwadekar (ex-Antibalas), Andy Bauer (Twin Shadow) et Matty McDermot (NYPMH).
Découvrez ci-dessous le clip de "Prism" (distribution : Karma Chief Records/Modulor)
"Afrodisiac" de Fela réédité en vinyle pour son 50ème anniversaire
En marge de l'événement Fela à la Philharmonie de Paris, la campagne de rééditions vinyle de la discographie du Roi de l'afrobeat se poursuit avec la ressortie d'Afrodisiac.
Enregistré en 1972 aux mythiques studios Abbey Road de Londres sous la conduite du producteur Jeff Jarratt, Afrodisiac est réputé pour son titre "Jeun Ko Ku", une satire sur la gloutonnerie et le premier grand succès de Fela en Afrique de l'Ouest. En anglais approximatif, le titre signifie " couper et désaltérer ", ce qui signifie " manger et mourir " en anglais courant. Sur le plan textuels, le titre le plus marquant est la dernière plage d'Afrodisiac "Je'Nwi Temi" ("ne me bâillonne pas"), une critique de l'establishment politique et militaire nigérian et une défense de la liberté d'expression.
Afrodisiac – 50th Anniversary Edition sera disponible en édition limitée double-vinyle colorés vert-rouge le 2 décembre via Partisan Records.
Vidéo : Lehmanns Brothers "Rain – Live Alhambra Studios"
Les Lehmanns Brothers sont de retour avec "Rain", leur nouvelle vidéo enregistrée live aux Alhambra Studios.
Le groove du quintette originaire d'Angoulême  fusionne des accords jazz avec des éléments de hip-hop, neo-soul et electro sous les influences de Prince, James Brown, Maceo Parker, The Roots et A Tribe Called Quest. Après  l'EP The Youngling vol.1, en 2021, les Lehmanns Brothers continuent l'aventure en 2022 pour présenter The Youngling vol.2 à paraître en novembre prochain.
Cet EP de cinq titres a été capté dans un format de live session aux Alhambra Studios. Découvrez ci-dessous la vidéo de "Rain" :
Lehmanns Brothers en concert à Paris (New Morning) le 9 novembre.
The Jimmy Castor Bunch : The Definitive Collection
En dépit de l'humour et l'irrévérence de son funk – comme en témoignent 'Troglodyte (Cave Man)' et 'Bertha Butt Boogie' - Jimmy Castor était un musicien sérieux qui a plus que mérité son surnom, "The Everything Man". Il pouvait aussi bien chanter que jouer du saxophone, du piano, du vibraphone et de divers instruments de percussion, et comme si cela ne suffisait pas, il était également un chef d'orchestre, un arrangeur et un producteur accompli.
"Ce que nous allons faire ici, c'est remonter – très loin, dans le temps" : The Definitive Collection comprend 3-CDs et le hit "Troglodyte (Cave Man)", l'histoire délirante d'un homme des cavernes racontée par Castor sur un groove brûlant, mais aussi les classiques "Potential", "King Kong", "Supersound", "Bom Bom" et "Space Age' 12″ Disco Mix", sans oublier ses reprises étonnantes d'Elton John, de Roberta Flack des O'Jays et son "Tribute" à Jimi Hendrix.
 The Jimmy Castor Bunch The Definitive Collection (Robinsongs/Cherry Red). Coffret 3-CDs disponible le 11 novembre (informations).
Tracklisting
CD1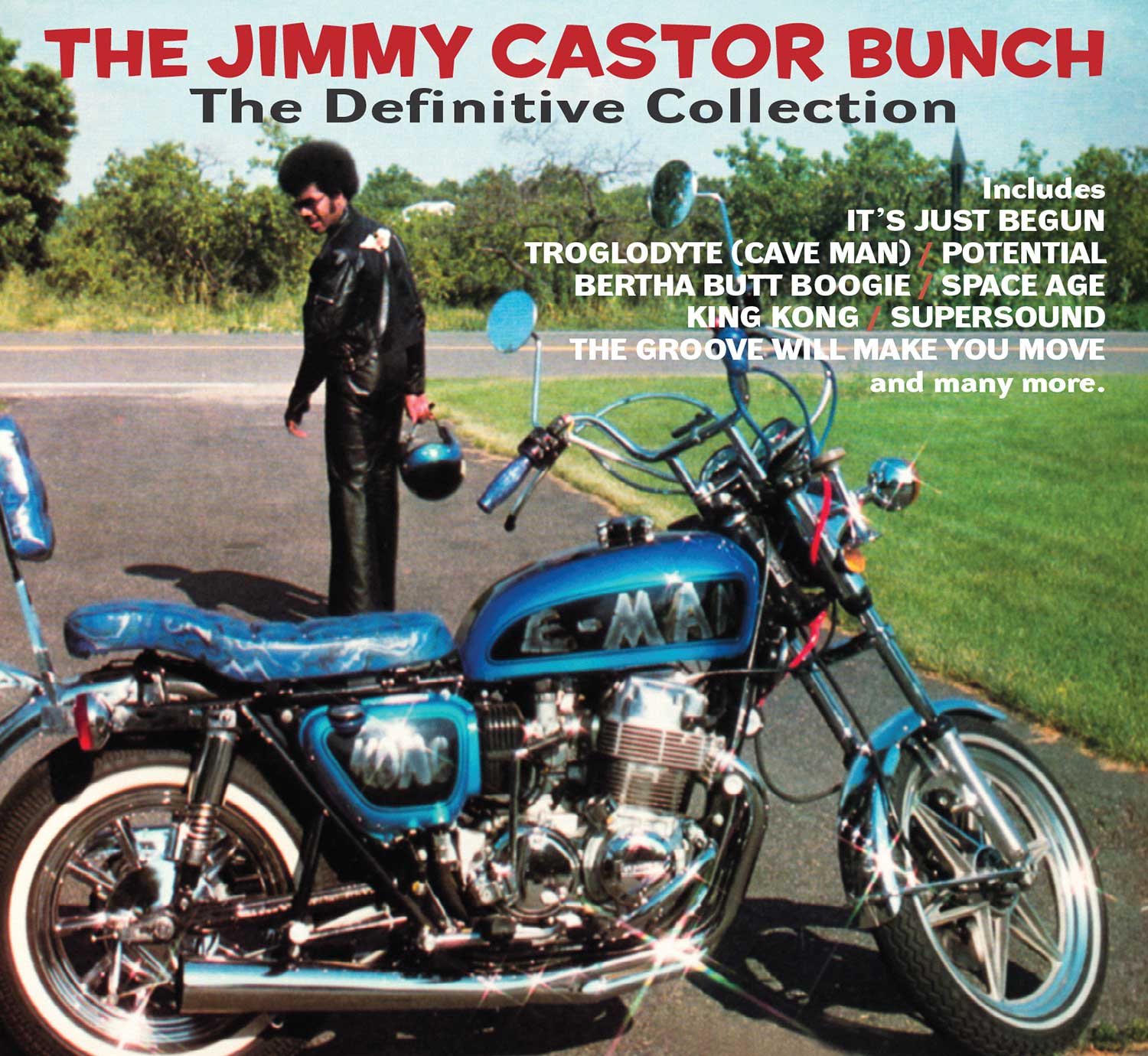 1. Hey Leroy, Your Mama's Callin' You
2. Southern Fried Frijoles
3. Creation (Prologue)
4. It's Just Begun
5. Troglodyte (Cave Man)
6. You Better Be Good (Or the Devil Gon' Getcha)
7. Psyche
8. L.T.D. (Life, Truth, & Death)
9. Creation (Epilogue)
10. Say Leroy (The Creature From The Black Lagoon Is Your Father)
11. Luther The Anthropoid (Ape Man)
12. First Time Ever I Saw Your Face
13. Tribute To Jimi
14. Paradise
15. I'm Not a Child Anymore
16. Soul Serenade (Remastered 2002)
17. Bertha Butt Boogie
18. E-Man Boogie
19. Let's Party Now
20. Daniel
CD2
1. Potential
2. Hallucinations
3. One Precious Word
4. Love Train
5. The Everything Man
6. Maggie
7. Supersound
8. King Kong
9. Bom Bom
10. A Groove Will Make You Move
11. Super Love
12. E-Man Groovin'
13. Dracula, Pt. I
14. I Love A Mellow Groove
15. Everything Is Beautiful To Me
CD3
1. Space Age (12″ Disco Version)
2. E-Man Par-Tay
3. Maximum Stimulation
4. The Return Of Leroy, Pt. 1
5. Mind Power
6. Tr-7
7. Don't Do That!
8. Party People
9. I Just Wanna Stop
10. Need Your Lovin'
L'album culte de Machine réédité en vinyle et CD
L'album éponyme de Machine est entouré de mystère. Supposé être sorti en 1972 sur le label All Platinum Records, il a complètement disparu sans laisser de trace et seuls quelques exemplaires semblent avoir survécu, ce qui en fait l'un des albums funk les plus rares de la planète. L'album, qui n'est connu que d'une poignée de collectionneurs acharnés, atteint des prix dépassant les 5 000 dollars lorsqu'il apparaît sur le marché des enchères, ce qui s'est produit quatre fois au cours des vingt dernières années.
Composé du chanteur-guitariste Michael Watson, du bassiste Curtis McTeer et du batteur Donald McCoy, trois jeunes musiciens de studio qui accompagnent leurs collègues du label The Whatnauts, le groupe distille un mélange incisif de hard-funk et de soul fiévreuse. Disponible en vinyle et CD à partir du 2 septembre, Machine réédité dans sa pochette originale et remastérisé par Colorsound Studio à Paris. La réédition comprend également un livret du journaliste Charles Waring, l'éminente plume soul du magazine Mojo.
Machine Machine (Wewantsounds/Modulor). Disponible en CD et vinyle à partir du 2 septembre Informations.